Questionnaire – Philip Davis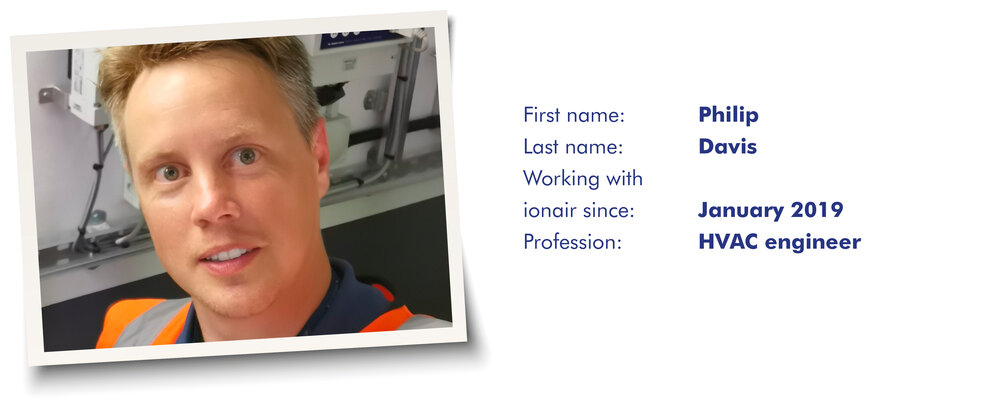 When did you decide to partner with ionair?
Our original discussions date back to early 2019. We knew we found the right partner; we just had to work out how to make it happen.
How did the partnership come about?
Indoor Air Quality has been a passion of mine for the last few years. I could see the change and focus in the UK moving, which ultimately would require proven air purification technologies for commercial and industrial ventilated buildings. Having previously spent time visiting potential suppliers across Europe and Northern America, we wanted a partner that would not only meet the UK's interest but also offer a high-quality product with supporting European case studies and references. Whilst the UK has been dominated through BREXIT talks over the past couple of years, we knew that we still have many commonalities with all those in Europe and ideally, we wanted a partner that could understand our challenges.
What were the convincing arguments for you to sell the ionair products?
First and foremost, it's the people. I needed to know that we can deliver a high-quality product to the UK; part of that is delivering exceptional customer service. It's difficult to do that alone, you need a manufacturer that is willing to stand behind you and empathize with your own customers. We also knew we wanted to offer an engineered product and a solution that is well proven and adapted for the UK and European market. The UK has a requirement for engineered solutions. Having a system that adapts and controls the level of ionisation to improve indoor air quality on demand places us in a premium position.
The «Air Quality System» (AQS) improves significantly air quality and hygiene in a ventilated room. How relevant is the topic of indoor air and hygiene in the UK?
Extremely, especially given the worldwide pandemic we are experiencing throughout 2020. Indoor Air Quality (IAQ) as an agenda has being growing for the past few years. Unfortunately, at times UK building legislation has stifled progress. Health and Safety is extremely important to us in the UK and whilst there are strict laws in place to protect people from workplace exposure. The requirements don't solely focus on this particular field. Most of the development has been through forward thinking companies that are looking to increase the health and wellbeing of their employees. Building certification such as WELL and BREEAM is a big contributor to improving indoor air quality in commercial buildings.
How important is the UK market for the ionair group?
Maybe this is one for Beda Weibel to answer! All jokes aside, we both believe it's an extremely important market. The UK has a fantastic engineering history and our increasing population, poor air quality and demand for healthy, efficient buildings grows continually. The UK has always served a number of markets and regions well.
Are there typical industries where the AQS is most in demand?
At the moment, almost all conversations come back to COVID-19. SARS-COV-2 has changed the world and it's certainly placed the spotlight on Indoor Air Quality. We know what our systems can do and we are advising customers to look at all areas of IAQ as legislation is increasing the demand for commercial grade air purification technology. Having said that, the application range for ionair is one of the great features. From offices, to healthcare to industrial processes the benefits of ionization are far reaching.
Do the products deliver what they promise?
Again, it's one of the reasons why we choose ionair. During our visit to Lucerne, we spent considerable time looking through the products themselves and the manufacturing process. We could see that we had a high-end product. Of course, as they say, the proof is in the pudding! Our experience from receiving the equipment to installing the products is of a very high quality. There must be a reason why Swiss manufacturing is held in high regard. I'm proud to say that we have our first UK installation and we've experienced zero issues throughout the process.
How do you check the quality of the products?
To begin with, this was initially done through our own compliance checks, including looking at the approvals for the UK market. Ensuring the product is suited and adapted for UK legislation and law was priority number 1. We also wanted to ensure the products are ready for when the UK leaves the European market fully. As the UK is moving to its own conformity criteria our requests and been heard for UKCA (UK Conformity Assessed) approval. As part of our own due diligence we wanted to provide a UK case study with independent testing carried out on pre- and post-installation of the ionair AQS. I can tell you now the results of this delivered and exceeded all expectations (see report about SSE and Test result).
Can you tell us about the feedback from UK customers?
So far, it's been excellent. From delivery, to packaging, to the information and technical documentation supplied, it's been a first-class experience. This is exactly the experience we wanted to offer to our customers. The installation itself has exceeded expectations. Our Veritas Mobile monitoring data center, offers both ourselves and our customers the data that backs up our claims on improving Indoor Air Quality. Feedback has been so positive that we are now looking at other buildings within the UK portfolio where we can improve indoor air quality for their staff.