PROFILE OF JOSÉ-Manuel Garcia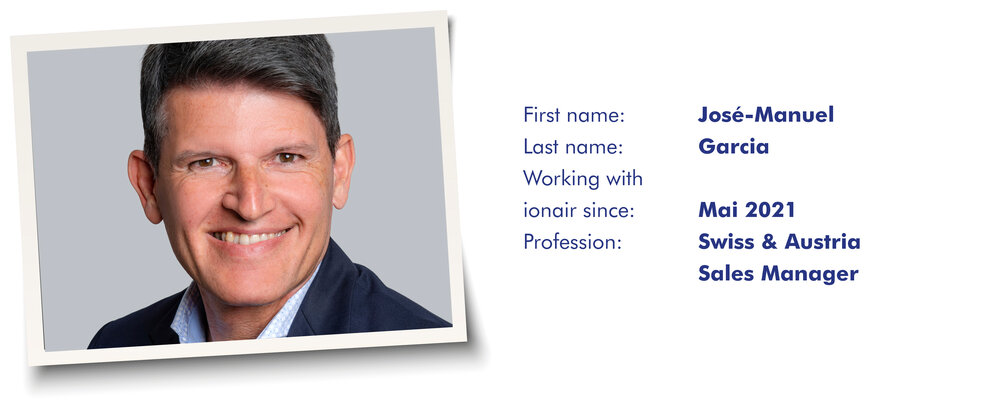 Mr. Garcia – You have been responsible for Sales in Switzerland since May 2021. How have you been integrated into the ionair community?
With a warm, hearty and very professional reception – I've been made to feel very welcome and I am very keen to work with my new colleagues.
Please give us a brief introduction: how would you describe yourself?
As a knowledge-thirsty, curious, enthusiastic, and eloquent person, who always treats others with respect and empathy. I try to be pleasant and I always lend my ears to those around me.
What do others say about you?
People tend to describe me as someone who can be inspired, always thinking positively, and with a high regard for justice and equality. In addition, I am calm and composed, and last but not least, I always enjoy a laugh.
What is your professional background?
I am a trained heating engineer and I was working in the construction industry until I returned to higher education. Thereafter, I focused on Sales and Marketing. I was working in various roles as a Swiss Sales Manager. This has included more traditional field services jobs right up to several managerial roles in sales, with the majority being in the secondary construction industry at both domestic and international companies. I have several years of experience in setting up and expanding new markets, developing new sales hierarchies, and project support.
What were the decisive arguments in favor of starting at ionair?
The feeling of being at the right place at the right time. I was impressed by the professional and pleasant atmosphere. In addition, I was convinced by the product and services offered by the company. For me, starting at ionair is a "back to the roots" concept - in other words, going back to my professional roots in which I am better networked now than ever before. Moreover, the consulting intensity and the extremely high level of customer support that the products and services of ionair demand has provided me with the impetus to embark on a career with ionair.
You are changing your job in the midst of the Coronavirus pandemic. Were you able to get a clear idea about your new employer?
Yes, I was able to do that. In the initial introductory phase, I had the opportunity of getting acquainted with the majority of the ionair workforce. In addition, an initial insight into the routine business showed me the pending tasks and challenges. At the same time, I was aware of what was expected from me and I am excited that my new challenge will begin soon.
What are your priorities at the moment as a Sales Manager?
The focus is presently on customer support, on the one hand, and on the projects associated with them. I would like to have a quick and holistic overview of the pending activities that have to be taken up and completed first. On the other hand, I would like to familiarize myself as quickly as possible with the Swiss market and its hierarchies and intricacies.
How important is the Swiss market for ionair?
Switzerland is the domestic market for the company. Accordingly, it is also important and significant for ionair because there are strict requirements for engineering, reliability, service performance, and innovation. We have to keep pace with the stringent demands of the industry, otherwise we could lose out quickly in terms of significance. I am still not fully informed about the market specifically for air purification equipment. However, I have an extensive network within the most diverse customer segments of the construction industry.
What would you like to achieve with ionair?
I would like to help ensure that ionair remains a major player both now and in the future with an excellent reputation. I want to help enhance the popularity of the company, explore potential growth opportunities even in the times of the pandemic, and convert these into successful partnerships. And doing this as a team is the only way that ionair can remain in great shape both now and in the future.
About the person:
José Manuel Garcia was born in La Coruña, Spain, and he moved to Switzerland when he was 13. After finishing school, he successfully completed his education as a heating engineer. He then started in Sales and Marketing in the service provider and secondary construction industry. From there, he worked for 20 years in various export-oriented and international companies across several continents. In the meantime, he has successfully completed a second qualification as a Swiss graduate Sales Manager with a focus on Sales and Marketing. José Manuel Garcia speaks five languages and has a daughter aged 22 years.