PROFILE OF Pirunthapan Panpalakan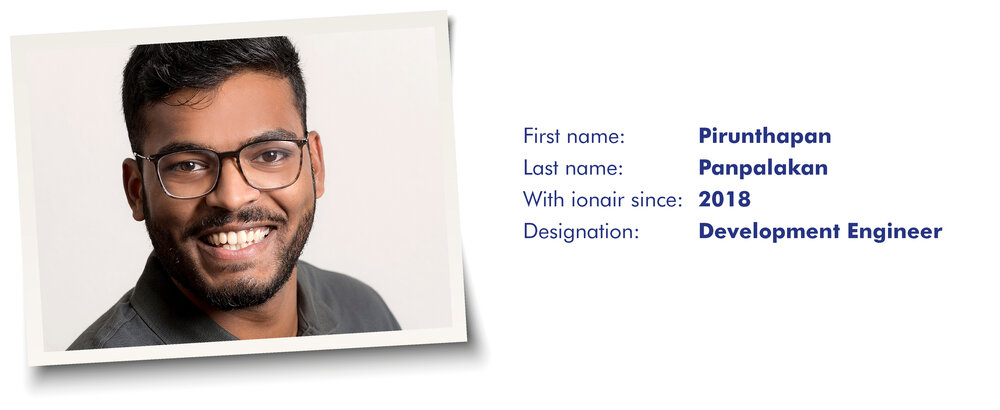 Why ionair?
Ionair has a comprehensive and international platform for marketing its own products. The headquarters offers a centralized insight into various divisions, from development right up to sales. The familiar dealings in a functional team and the team spirit of the various individuals were one of the main reasons behind my decision to join ionair.
What do you enjoy about your work?
My day-to-day work is accompanied by several challenges. Not only challenges of a technical nature, but also in terms of Research and Development. For me personally, this offers good prerequisites to pursue new projects in a team. In this way, I can acquire new practical knowledge and expertise. In addition, I highly appreciate the open communication in the team and the ease with which projects are executed.
Your mission statement?
Natural processes combined with innovative technology.
What are you working on right now?
At present, I am at the end of my orientation phase and I am now well-versed with the processes and product development. I am currently conducting a series of tests in the field of Research and Development with the help of the comprehensive laboratory infrastructure of ionair. The series of tests consists of studying various environmental influences on the quality of air with the help of the most modern sensor technology. The knowledge and findings generated are used, in turn, in the development of new products.
What do you associate with naturally fresh air?
Air is an essential constituent. There is no life without air. This is why every human being has a right to it. Since the subject of air is highly complex, the task of ensuring natural air indoors fascinates me.