PROFILE OF Roger Marty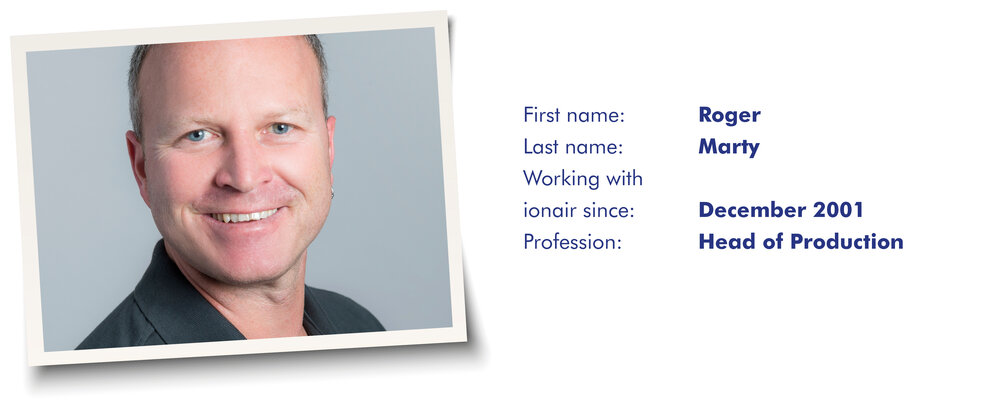 Why ionair?
I applied for a technician position 20 years ago and even back then I was impressed by the international orientation of the company. Anything international fascinates me to this day. In addition, I am convinced by the products of ionair. Ionization systems are environmentally friendly and energy-saving..
What do you like about your work?
I was traveling a lot as a technician at ionair. The reality is there is no comparison between assembly and service at home and abroad. In this way, I was able to gather quite a bit of experience that is standing me in good stead even today. I know what the customers need. In addition, we explore the nearby places or city, where we are working – assuming we're not exhausted by the end of the day's work. I was given the opportunity to take over as Production Manager with effect from 2013. This job is just as diverse as the work during assembly and installation. Moreover, I work with a fantastic team.
What are you working on right now?
At present, we are trying to tackle preparations for production against the new orders received. This includes ordering and stocking the required material so that my team can assemble the systems and devices. Moreover, contract agreements with suppliers that are close to expiration have to be renegotiated. I have to check current offers on an ongoing basis for this purpose.
Your maxim at work?
Two things are important to me, and not only at work: live life as it comes and treat others as you would like to be treated yourself.
The claim of ionair is «naturally fresh air». What do you associate with naturally fresh air?
I am happy when I'm in the midst of nature and fresh air, and I love to go biking, hiking, and skiing. I relax most when I'm in the fresh air.